Diary 2018



---
2018-11-12
This weekend started with unpacking a large
package which contained last years big news.
The Disneyland castle. It has 3300 RGB lights
which can be controled to display any color wanted.
That means I can play patterns, pictures and
even movies with the lights.
During this weekend was also the white
artificial trees installed.
Now when 30777 lights is in position only a
few more things remains. Also this years
new is still to install as well as wire
everything togehter and do some testing.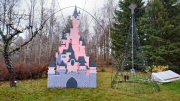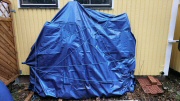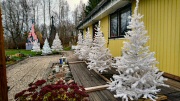 ---
2018-11-05
Another 6500 lights is now in position and
now less than 20% to install.
During this weekend all trees have got their lights
Also the santasleigh and the fountain of lights
have been installed. There are now lights in all
hedges and the last thing I done this weekend was
to install the candles upon the garageroof.
Next weekend its time to install the disney castle.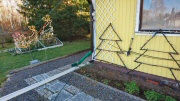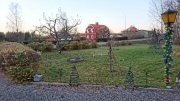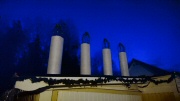 ---
2018-10-30
19650 lights is now in position and
more than half of all the lights is now up.
During this weekend the megatrees where
put up. It is a fun and effective way to build
megatrees made of lightstrings.
Maybe you notice that the middle megatree is
missing the tree topper star. I will install a
new, beautiful star before we light up December 1st.
Next weekend we will put up more lights
for example in the trees.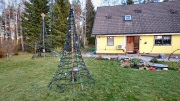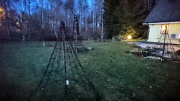 ---
2018-10-22
Another weekend has now passed and
13250 lights is now installed.
De large spruces have got 2000 lights
and also the arches and some other
things have been installed.
The spruces only get larger and larger for every year.
Next weekend the work continues with
more lights out in the yard.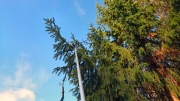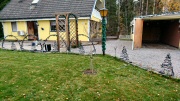 ---
2018-10-15
During the past weekend the work was
proceeding with installing lights
here and there, on the house, garage
and some of the trees. Also the entrance
portal got the lights, like it uses to.
For next weekend we take on some of
the bigger projects.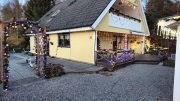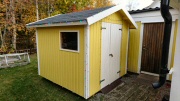 ---
2018-10-07
Autumn is here again and the work with
this years lightshow have started.
As always we start with decorationg the
house. 5918 lights have now been installed.
Last year we went out strong with a huge
Disneyland castle with lots of RGB lights.
This year will be most of finetuning
the details with some news here and there.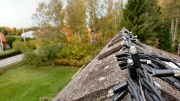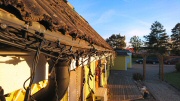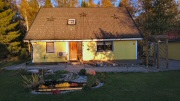 ---